Posted at Dec 18, 2022 9:19 pm
Hello fellow booklovers!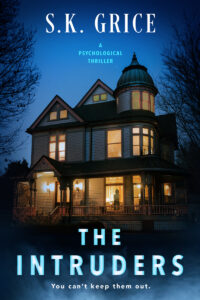 Can you believe this year is almost over? I hope 2022 has been kind to you and your loved ones. I've had a fairly calm year (thank goodness) and that's given me time to write my next psychological thriller, THE INTRUDERS.
You may have noticed that I've drifted from writing romance to writing thrillers. I just can't get these dark and suspenseful stories out of my mind, so expect to see more books coming from from S.K. Grice in this genre. 
I'm not saying that I'll never write another romance. I see myself adding more novellas to my Pine Lake Mountain series because I'm also a sucker for cozy, romantic Christmas stories.
Speaking of Christmas, it's only six days away and I still need to shop. Yikes.
Stay safe, everyone! Wishing you all a Merry Christmas and Happy New Year.
Posted at Nov 2, 2021 1:47 am
Hey, did you hear that I've just published a psychological thriller under my new pen name, S.K. Grice? 
I'm still writing romance as Sheila Grice, and am wrapping up my rom-com Monkey Business series which you'll hear more about very soon. But if you're interested in what else I've been working on, then check out my latest release.
Posted at May 30, 2013 3:41 pm
Welcome to my website. I'm an author of of romance and women's fiction. I also write thrillers under the name S. K. Grice. If you like to read or write in these genres, then we have something in common.  
Looking for a quick contemporary romance read? Subscribe to my newsletter and receive my short story, A Stranger in Town: A Pine Lake Short Story, available for free exclusively to my readers.
Please browse my website for more details about me and my books. Thanks for stopping by!